Top Five New Rules for SEO in 2018 to Rank Better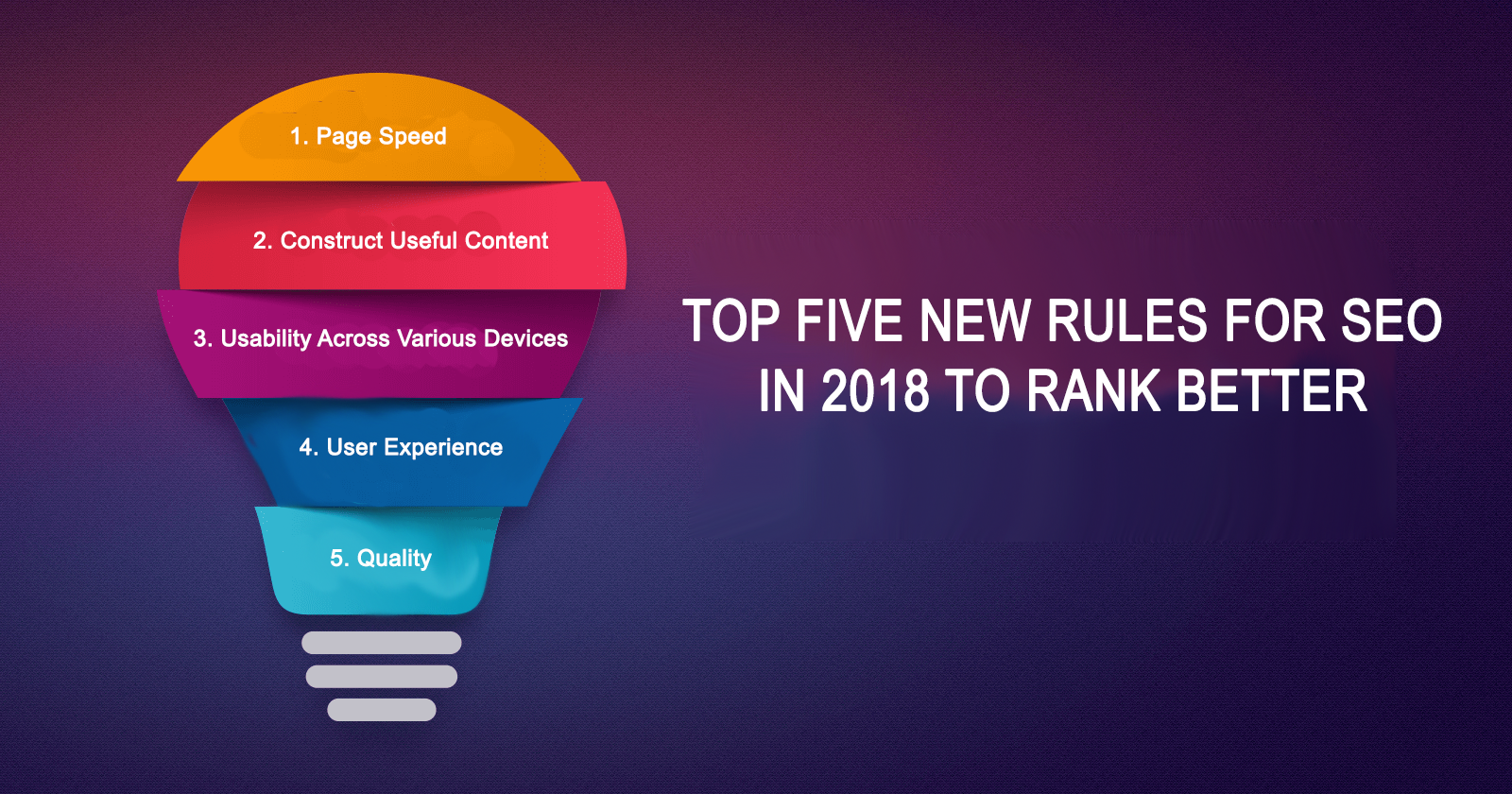 The three pillars of SEO remain the same- Authority, Content and Indexed Age. Thee three are vital for a SEO tick. The above-mentioned three pillars are considered as the fundamental driving principles.
SEO ranking are based on how well and how rigidly these pillars stand. With changing times, it is important to keep in mind that it isn't just about the links. SEO has gone way beyond that.
Here are some rules for you to keep in mind and these will help you in dominating the SERPS.
PAGE SPEED SHOULD BE ASSESSED AND IMPROVEMENTS MUST BE MADE WHEREVER NECESSARY
It is important for one to determine the areas of improvement for one's domain. When you increase your site's page speed, you can improve your potential visibility. Keep in mind the below-mentioned points
Enable compressions (GZip)
Reduce server's response time to requests
Optimize all images with loss-less optimizers
CONSTRUCT USEFUL CONTENT (THAT ADDS VALUE)
It's all about the content you create. Remember, shortcuts won't take you anywhere. The content reflects on your site and traffic will increase. The content is not going to be the best if it is less then 2,000 words.
Another point to keep in mind is to add internal and external outbound links. The content is better when there are statistics and data to support it. Do add on your stats to it. Use keywords frequently but don't go overboard with them. And lastly, but the most important thing is to create content that is useful and at the same time, is simple and easy to understand.
ENSURE USABILITY ACROSS VARIOUS DEVICES
Everybody has a smartphone. Thus, it is of utmost importance to focus on mobile responsiveness and usability. Approximately 60% of all searches in 2016 were mobile searches. Put in time and effort and ensure your site is optimized for mobile devices.
ENHANCE THE USER EXPERIENCE
Who doesn't want the best user experience? For this, one must make their site easy to use and easy to navigate. The searches should be fast and the main menu must be direct and easy to use. It is easier if your content is categorized by using tags and remember to avoid too many pop-ups as this distracts the reader, shifting the whole focus.
QUALITY SHOULD BE A PRIORITY RATHER THAN QUALITY WITH RESPECT TO LINKS
Adding relevant outbound links is one thing, but the quality of your links is far more important than the quantity. Your targets should be the highest quality domains. Make sure that the links are all natural and organic!
The fundamentals are always going to stay the same. You still can't take shortcuts or do half the work and expect results. To absolutely crush the SEO game in 2018, use the tips and remember not to use shady tactics!